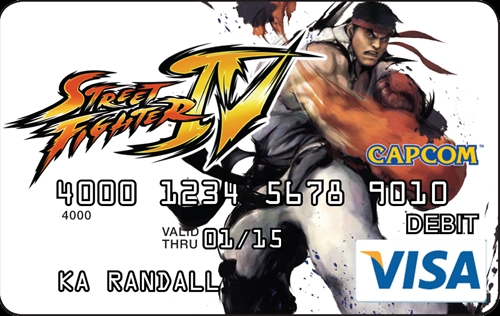 So we've had our Visa Card program launched and in the wild now for a couple months, I thought it might be a good time to update folks on how that launch went, what feedback we've received and what changes and improvements we, Visa and our banking partner have made.
First off, some apologies.
Some of the linkages between the card and the bank data and the award of Unity points "broke" (that's a technical term) shortly after we launched and some people were concerned that they had been taken for a ride (we would never do that). It took us a little while to get them working properly again, but they do work and work well I might add. So all of your transactions will now be properly tracked.
Secondly, it wasn't clear to people when they would receive their points if they synced to Unity within the banking portal. In some cases, people needed to make a purchase on the card first, in other cases it worked as soon as the cards were loaded/had deposit put to them. It wasn't consistent or clear. Similarly, people aren't clear when transactions are getting posted to generate Unity points on an on-going basis.
Some Fixes
To rectify this we have implemented a few things. First, within a week of you syncing your Unity ID within the banking portal, you should be awarded points.To make something clear, transactions are not retroactive in the award of Unity points, so please link your Unity account within the bank portal when you activate your card. For example, if you spent $1,000 on the card, and then sync your account, and then spend $5 afterwards, as far as Unity knows, you've earned 25 Unity points (not the 5,025 you would have earned, had you linked at the outset). So don't miss out. Make sure you've synced as soon as you activate.
Second, we've created a nifty point tracker that will make it crystal clear when you're on Unity, how many points the Capcom-Unity Visa card has put into your Unity account and whether or not you are actually synced (if you don't see a tracker following you on every Unity page, you aren't synced). It also provides handy buttons to bring you to the Rewards Mall and the Banking Portal . That way there won't be any question of how or if points got to where they needed to be. It shows up on every page provided you're logged in and looks like this: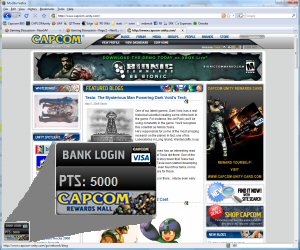 Again, those points are updated weekly to reflect your purchases made with the card and direct deposits to the card.
Lastly, you might have seen we've taken a bit of a knock when it came to fees associated with the card. That's not because the fees are exorbitant, but as originally posted, with no context, it appeared like you were getting charged for every little thing you did. We've subsequently provided a bit more explanation as to under what conditions fees actually occur.
For example, it previously said "customer service via phone: $1.50". That raised the question, is that $1.50 a minute? Is that per call? The reality is, you have 7 free calls before there's a charge and thereafter, it's $1.50 per call, regardless of duration. The closure fee just said "$10". Wait, I need to spend $10 to shut this thing off? Well, not exactly, if there's a balance on the card and you'd like a check cut and mailed to you, that costs the bank money… pretty close to what they're charging for that service. If you just spend the money on the card, and just let it run down, obviously, there's no charge for that.
Do Your Research And Compare
I would invite you to compare our fees to those of Bank of America ($6.50 -$20 a month for checking accounts, $39 per overdraft, $2 per non-BOA ATM fee – $5 for international ATM fees), Chase (Free – $20 monthly fees for checking – free version has no online services or bill pay, $2 per non-WaMU/Chase ATM, $27-$33 for overdraft or NSF fees) or Wells Fargo ($5 – $25 a month for checking accounts (checking section), page 46 onward for other fees – $2.50 per non Wells ATM transaction fee – balance inquiry is another $1.50 – $5 for international ATM fees – the higher end monthly accounts allow for a couple free ATM hits a month, first overdraft $25, subsequent overdrafts in a year – $35).
Compare a $0.50 decline on our card versus a $25 – $40 overdraft/NSF fee on any checking/debit account here. And checking accounts don't have cash back and rarely have rewards.
Compare interest payments or a single late fee on a credit card versus no interest payments and no late fees on our card (even on those that do have cash back). Credit cards that do have rewards, have monthly or annual fees almost identical or higher than ours. Seriously, check your current bank as what you think is "Free" most likely isn't or has strings attached/limitations.
The reality is, most charges at any bank are avoidable. The vast majority of everything you would need to do (track transactions, balance checks, pay bills, etc.) can be accomplished on the card portal for free… no need for ATM use or calls to customer service. Another example, one tip to avoid an ATM fee (and by the way, your existing bank certainly charges you every time you use an ATM that isn't one of theirs, so this tip will work for you even if you aren't a Capcom-Unity Visa card holder) is to do cash back at a grocery store teller, buy a pack of gum, or mints, or a cup of coffee and hit debit and get cash back. You'll avoid the $1.50 ATM fee, and only have a $0.25 pin transaction fee.
For regular buying, hit "Credit" instead of "Debit" and use it like a normal Visa card and there's no fees at all for signature transactions. Online purchases are treated like signature purchases. There's never any fees and you always get rewards (cash back AND Unity points).
Tips from Current Card Users
A few of our users have provided some other tips, for example, Tom posted on the Ask Capcom boards:
I love the alerts. I was at WonderCon a couple months ago and used it at a store two blocks away from the Moscone Center. Literally as the clerk ran my card and handed it back to me, my cell phone (on vibrate), buzzed. I looked at the screen and it had the actual transaction amount authorization on the screen, the time, the date, the merchant location, and what my remaining available balance was. That was one of the first times I used it, and now I use it for all my everyday spending…because these alerts tell me exactly what's left, every time. I also signed up for email alerts, so I get notified for everything. Awesome security feature if I lose my card and somebody tries to use it.
Speaking of alerts and knowing your balance, there's no way you should ever get a decline charge or a negative balance fee. It's pretty simple…if it says you have $35 in your account, you're going to get declined if you try to spend $50. It's a way different than a traditional debit card tied to a checking account, because those tend to be batch posted, and these Capcom cards are posted in real time. Bottom line: no "oops" fees. That's a big deal now that Bank of America has upped its overdraft fees to $39.
I tried redeeming my cash back a couple weeks ago. There are two buckets…one is a "pending" rewards bucket that includes all my cash back from the online Capcom Rewards Mall plus all my everyday cash back, and the other is my "available" cash back. It goes from the "Pending" bucket to the "Available" bucket after 45 days. So I had a couple bucks in my "Available" bucket. I just clicked on my "redeem points" link, told it how much I wanted to redeem, and hit submit. It was immediate. My available balance for redeemed points dropped to zero, my cell phone vibrated and I got a text message that I had loaded my card and it showed the new balance, and I went back to check my online account management site, and everything was reflected.
I am starting to substitute this Capcom Visa card for my regular checking account debit card, and have told my wife (I got her one, too), to put all of her spending on hers…because at tax time, I hate rebuilding an entire years' worth of spending. This not only tracks every transaction online, but it also separates them all by tax code, so I know what's deductable or not. It downloads into Quicken, MS Money and Excel. I wasn't expecting that. Showed it to a friend who's a realtor in Lake Arrowhead, CA and he showed us what he had just paid his assistant for 10 hours to do; same dang thing. He wanted one.
Tom has come up with some good ideas and feedback for how to use the card, and we think there are others that will have interesting experiences to share, tips for savings or ways to maximize rewards. To that end, we've formed a Capcom-Unity Visa Card group here on Unity, with its own forum , blogs and Wiki to help be a place with others can learn and share.
More To Come
On the positive side, we've been rolling out new rewards constantly and some of have been really amazing (from limited edition and Japan-only swag – often signed by producers, to Shawn's smelly dry erase marker). As our rewards program continues to evolve, expect to see even more rare, more collectable, more valuable stuff hitting the auctions and raffles pages. The Capcom-Unity Visa card is a great way to earn points just from buying things the way you normally already would.
That and I've seen some of the new card designs we have in the works… I think at least a few Megaman fans will be pleased with the approach on one new future card design. Stay tuned.
If you've read this far and are not a card holder, but would like more information or would like to become a card holder, head on over to the Capcom-Unity Visa card portal .