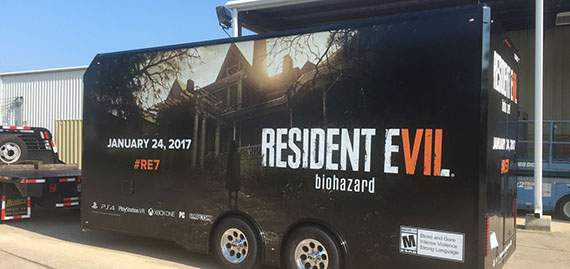 Starting next week, we'll be kicking off our Resident Evil 20 th Anniversary Tour in San Francisco, California before it hits the road with stops across the country. Come join us to celebrate the Resident Evil franchise and get a peek at what the future of the series has in store with a scream-inducing Resident Evil 7 demo, playable in VR! This will be the first chance for fans in North America to play the new super special, super scary RE7 "Lantern" demo utilizing PlayStation VR, so if you're in San Francisco on September 15, swing by The Yard across from AT&T Park. We've got more info right after the jump!
The series' most recent numbered entries, Resident Evil 4, 5, and 6 , were released on PlayStation 4 and Xbox One over the past few months, and they're all available now as both physical discs and digital downloads. We'll also have them playable as part of the tour, with challenges spanning all three games for the competitive types! In addition, we'll have some cool swag on sale, too, including t-shirts, hoodies, and other goodies, such as a plush toy version of the infamous Licker enemy from RE2 , complete with extra-long tongue. If you're in the San Francisco area on the 15th, be sure to come by between 11am to 3pm and check it out! After that, the truck will be making its way across the country. We'll have more info on tour stops soon!
Can't attend? Be sure to pre-order Resident Evil 7 on PlayStation 4, Xbox One, and PC to make sure you get your hands on it as soon as it's released on January 24, 2017.