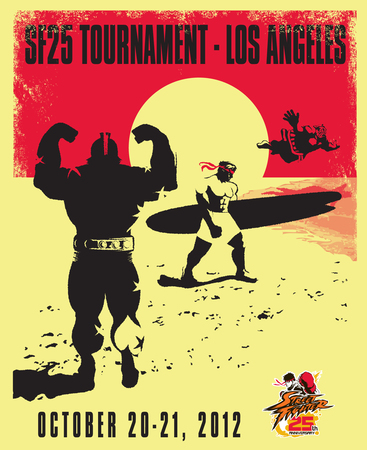 What's up everybody? I hope you're ready for another weekend of high level Street Fighter (I know you are) because the SF 25th LA qualifier begins THIS SATURDAY! Personally, I'm most hype for the Street Fighter III: 3rd Strike tournament as I know a ton of heavy hitters are in the Southern California area. That said, only one spot is up for grabs and I've heard via Twitter that the Japanese are coming for it! Will the US be able to defend their turf?
All of you Super Turbo players should be stoked too as there are not one, but TWO spots up for grabs at the LA qualifier! This is another OG game that should be host to a lot of high level play.
Street Fighter 4 and Street Fighter x Tekken will also be very exciting but that goes without saying! With so much talent in SoCal and players coming from all over the country for a chance to compete this should be one of the fiercest qualifiers to date.
Even those who don't qualify but end up placing well will be receiving a bit of cash as well. For more details on the prizing structure check out StreetFighter25.com and check out this post for location and other curcial info.
Check out all the action live on Capcom Fighters come Saturday at 1PM PDT!
Hit the jump for some hype matches from our last qualifer in Brazil!
Also, if you missed the SF 25th Brazil qualifier I uploaded handful of must watch videos from the event. The grand finals in Street Fighter 4 was easily one of the most hype fighting game moments I've seen in a very long time. I won't spoil the surprise but check out the replays below!
I'll be uploading many more videos in the coming weeks and days so be sure to subscribe to us on YouTube !