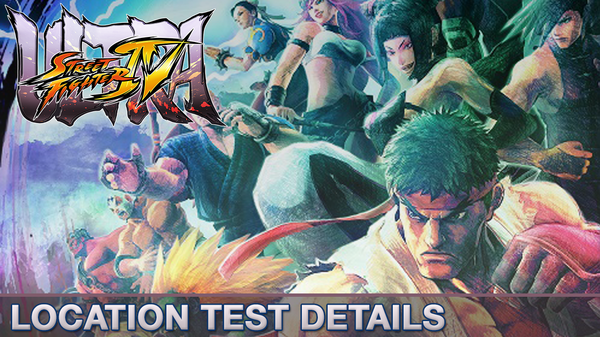 Hi everyone, firstly I wanted to say a massive thank you to everyone who came to the last European location test in Paris at the beginning of the year. I was inundated with feedback, and the overall enthusiasm from the French FGC was incredible.
I know you're all exceptionally eager to get another chance to play Ultra Street Fighter IV, and it's with great pleasure that I am able to reveal not one, but five additional opportunities for you to come and try it out!
I'll be going into more detail as we lead up to each event, so keep an eye out for updates here on Capcom-unity, as well as via my Twitter @CapcomDawg, for now, here's what to expect for Europe over the next couple of months!
Paris Mangas – 8 th – 9 th February – Paris, France
For those of you in Paris, who missed out on the location test last month, you have another chance to play the same build of the game at this weekends Paris Mangas event. Pro-player Kayane will also be inviting a few top French players to participate in some exhibition matches, as well as showing off her own Chun Li skills on stage!
Website: kayane.fr/2014/02/06/tous-les-details-su…
The Heart of Gaming – 21 st – 23 rd February – London, UK
The time has finally come to give my hometown London a chance to play Ultra Street Fighter IV, with the latest build fresh from the most recent Japanese location test, including all of the new stages! The Heart of Gaming arcade in London will be putting on a special event to commemorate the 20 th birthday of Super Street Fighter II Turbo on the same weekend, so join us in celebrating the continuation of the Street Fighter legacy, as we prepare for Ultra Street Fighter IV!
Website: www.facebook.com/TheHeartOfGaming
IVGC (International Video Game Cup) – 28 th February – 2 nd March – Cannes, France
Year after year, the Festival des Jeux in Cannes, is home to one of the most popular and cherished European fighting game events of the year, the International Video Game Cup (formerly known as World Game Cup).
They just announced their special guest this year is none other than the EVO champion Xian, and if that wasn't enough, it's with great pleasure to announce that we will also be bringing along the latest pre-release version of Ultra Street Fighter IV for attendees to play as well!
Website: www.cannesivgc.com/
Road to Ultra – 22 nd – 23 rd March – Rome, Italy
When I heard about an event celebrating the build up to Ultra Street Fighter IV in Rome, I knew this would be a fantastic opportunity to give our Italian fighting game fans a chance to play USFIV, and that's exactly what we're doing! Along side the SSFIV tournament, attendees of the Road to Ultra event will get a chance to play the very latest version of the game too!
Website: www.arcade-extreme.com/roadtoultra/
Hypespotting – 29 th – 30 th March – Glasgow, Scotland
Back for it's third year, aiming to be bigger and more Scottish than ever, Hypespotting will also play host to yet another Ultra Street Fighter IV location test! We'll also be supporting their legendary pub quiz with some awesome Capcom goodies, and hopefully I'll be on the winning team this time!
Website: www.hypespotting.co.uk/
Feel free to ask me questions via Twitter @CapcomDawg and look out for more details regarding each event as we approach them. I'm looking forward to seeing you at each location test, so make sure you come and say hi!