Hello again everyone. This week I'm particularly excited to talk about one of my favorite features of FLOCK!, the built-in level editor. The level editor is the same tool we used to create all the levels, and we've included it in the game so you can make your own awesome levels. This video shows off the editor functionality:
As you can see, the editor is quite robust. You can pick each piece and place it in your level exactly where you want it. In the video, each piece is placed precisely by hand, but there's also an option for the editor to automatically place logical surrounding pieces nearby as you plop down the main elements (great for speed mapping!). You've got a full range of parameters to choose from – which season & time your map takes place in, how many/what kind of animals to rescue, what beams are available, whether the beastie will show up, how fast the player has to beat the level to get rewards, co-op style, etc…
There's gameplay to the editor as well – as you play through the single player campaign, you'll unlock new objects to use in your editor creations. So play through more of the game to get more cool stuff to play with in the editor.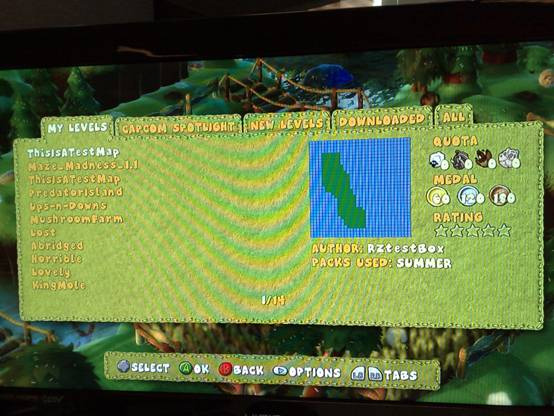 Now, after you've built your Mona Lisa out of sheep, it's time to share it with the world. Using our map sharing interface, you can upload your map to our central map sharing server where the entire world can see and rate your map. I'll select a couple maps each week to be our favorite Capcom Spotlight maps, featured in their own section of the interface – I'll be watching our Unity forum for suggestions.
Also, since wallpaper seemed to be a hit last week, the crew over at Proper crafted a bunch of them for your desktop. Download them over here – and I'll have another set next week too.