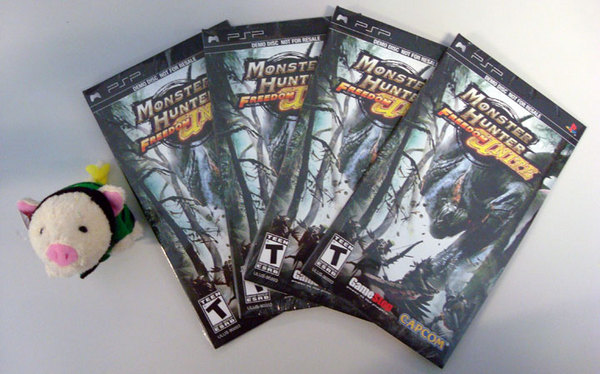 Curious about Monster Hunter? We'll send you a demo for free on UMD, plus an extra three so you can hand them to friends and get them playing some co-op with you! You already are familiar with our Auctions , and we've set up something similar for you to get your copies of the Monster Hunter demo. Just head on over to the Auctions page , and select the demos. You can purchase the demo for one measly Unity point. Enter your address, and done! We'll send the demos straight to you.
Included in will be the Monster Hunter Freedom Unite Field Guide Book, and who knows… I might even throw in a cute stuffed poogie to go with it all…
Get to hunting!
UPDATE: I've added 25 more prize packs. After that, that's it! So get them while you can. Look for the item, "Monster Hunter Freedom Unite Demo! (again)" in the auctions section.