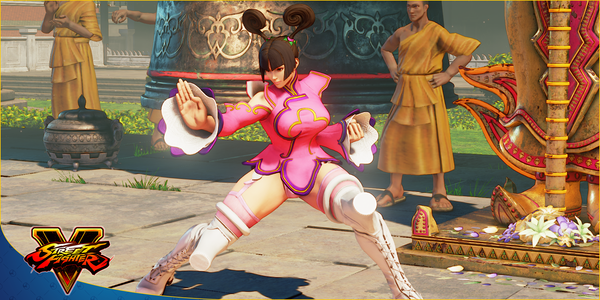 We hope you completed all four Extra Battle Challenges to get the Viewtiful Joe Crossover Costume for Rashid because it's time for another! The first challenge for the June Crossover Costume for Chun-Li will start on 2/15! June is a rhythmic gymnast and shares a similar tragedy with Chun-Li. Learn more about June below, including the schedule for all four pieces of the costume.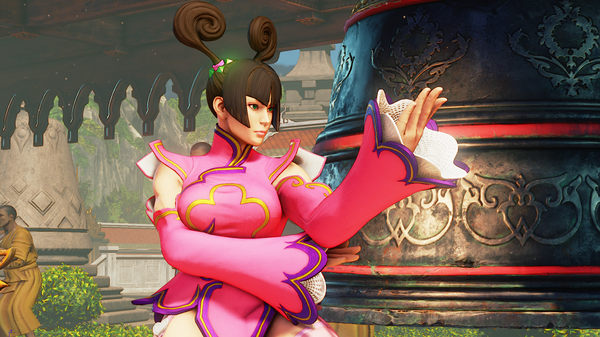 HOW DOES EXTRA BATTLE MODE WORK?
Every month, there will be at least one unique costume like a Crossover Costume up for grabs, which can only be obtained by playing Extra Battle Mode with Fight Money. Here's the flow of how to go about getting these costumes:
Each costume requires you to complete four challenges that take place over the span of a month – one challenge per week.
Each time you attempt one of these challenges, you will need to spend 2,500 Fight Money. So if you successfully complete each of the weekly challenges in one go, you can get that Extra Battle Costume for 10,000 FM!
Once you complete all four challenges, the costume for that month is yours!
These challenges are time exclusive, so make sure to log in each week to complete them, especially if you have your eyes on that month's unique costume.

June Lin Milliam

Name

Date

(Starts 8pm-Ends 7pm PT)

Cost

Reward

Challenge 1

2/15-2/22

2,500 FM

Challenge 2

2/22-3/01

2,500 FM

Challenge 3

3/01-3/08

2,500 FM

Challenge 4

3/08-3/15

2,500 FM
You only need to complete each challenge once to obtain the icon. Successful completions afterwards will reward you with a set amount of EXP.
During this time, there will also be a number of Golden Shadaloo Soldiers appearing on weekends, which act as a way to potentially replenish your supply of Fight Money or quickly level up a character. Each soldier can only be challenged three times. Please see the schedule below for the upcoming soldiers.
Golden Shadaloo Soldiers

Name

Date

(Starts 8pm-Ends 7pm PT)

Cost

Reward

Max No. of Plays

Upper Class Shadaloo Soldier

2/15-2/18

1000 FM

5000 FM

3

Experienced Shadaloo Soldier

2/22-2/25

1000 FM

20,000 EXP

3
*All dates and times may change unexpectedly.
In addition, a monstrous Special Challenge in Extra Battle Mode will also begin on 2/27. You only need to complete this Special Challenge once to gain the reward, but subsequent completions will still provide you with EXP.
Proof of a Hero

Name

Date

(Starts 8pm-Ends 7pm PT)

Cost

Reward

Proof of a Hero

2/27-4/12

1,000 FM

"Proof of a Hero" Background Music from the Monster Hunter series
Extra Battle Mode will continue to bring unique challenges every week throughout the year. We can't wait to reveal more special costumes to you, but in the meantime, set your eyes on the June Crossover Costume for Chun-Li.
Follow our Twitter and like us on Facebook to stay up to date on the latest news!