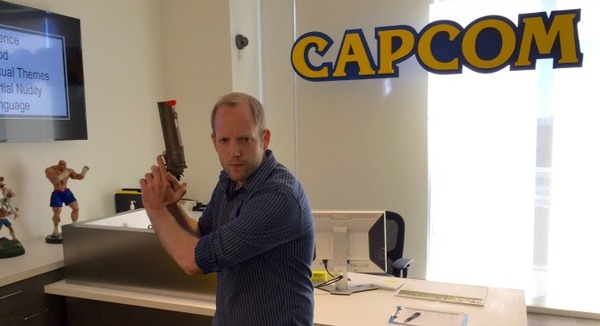 TIM TURI'S DIARY
March 2, 2016
Today, a high ranking researcher asked me to take care of a new monster…
Just kidding! I'm not going to be feeding live pigs to hungry B.O.W.s any time soon (that wasn't in my contract, anyway), I'm actually excited to announce I'm the newest addition to the Capcom Unity team! I'm joining this super smart, super fun crew as a Social Media Specialist to help keep you up to date on the incredible games Capcom has on the way via blog posts, videos, livestreams, Twitter , and more. Keep reading to learn about the path that lead me to this magical new place.
I'm teaming up with Capcom after almost seven years at Game Informer , where I was lucky enough to work on a plethora of cool projects. I co-hosted the Game Informer Show podcast , revisited gaming's past on Replay , travelled the world to visit developer studios, and most importantly worked with an amazing crew of kind, talented people. If you're familiar with my work at GI, then you know that Resident Evil is my absolute favorite game series and that I love many other Capcom franchises like Mega Man, Dead Rising, and Devil May Cry to name a few. Longtime Capcom Unity members might remember me from the Game Informer X Capcom Unity Super Replays of Mega Man Legends 2 and Resident Evil Code: Veronica X , featuring former Unity warriors Greg Moore and Brett Elston, respectively. A couple of my favorite RE-related projects at GI include ranking every game in the series (prior to Revelations 2), Super Replaying the 1996 RE and 2002 remake back-to-back, and talking to longtime Resident Evil developer Yoshiaki Hirabayashi about remastering the incredible RE remake.
Capcom games have defined who I am today and my fortunate career path, so of course I had to answer when I heard the opportunity to join the company clawing at my door. One of my earliest memories is sitting in my cousins' basement watching them play Mega Man 2 on a crummy old TV. I was captivated by the Blue Bomber's colorful world. The big, detailed sprites made it all look like an irresistible, interactive cartoon in my young eyes. My fandom was further cemented when another cousin showed me the original Resident Evil in 1996 at the tender age of 11. When I closed my eyes that night I saw images of hunters decapitating a blue-bereted cop and a huge, grotesque monster with an exposed heart. That formative exposure to Resident Evil – and the resulting nightmares – turned me into the obsessive fan I am today.
Shout outs to other Capcom favorites including Okami, The Legend of Zelda: Minish Cap, Bionic Commando: Rearmed, Monster Hunter 4 Ultimate, Final Fight, and Street Fighter (though I still don't have what it takes. I must train harder).
Let's plan on having some fun here at Capcom Unity. Thanks for having me!
4.
Itchy.
Tasty.
-Tim